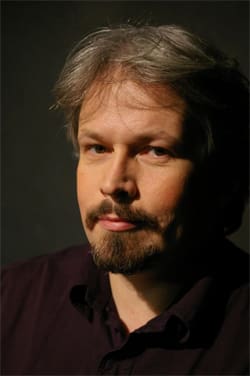 Creator of PEM
Biography of Stephan Perdekamp
Stephan Perdekamp developed PEM and is the author of 36 stage plays.
In his work as director Perdekamp focused on physio-psychological processes to draw characters and relationships and physio-social processes to unveil the web of social and societal rules and expectations to examine the life and relationships of the characters in his plays. His work is rather critical of culture (underlying pressures and taboos and unspoken rules) than the mere surface of it. His awareness energetic processes in and between human bodies made it possible to detect the emotional system that is now the basis of his method PEM.
Being a versatile artist, he worked as director of operas, movies and theater productions, as actor and voice-over artist as well as script writer, producer and executive producer of different film projects in Germany and Austria.
Stephan Perdekamp is the founder of the acting school "Open Acting Academy" in Hamburg. He also launched the business company "Art Connects" – a company offering business coaching in emotional communication. Furthermore, he founded the acting and theatre company "unStill- Stueckeschmiede" as well as the "blackbox|Theater" in Vienna, Austria.
All of his plays premiered in either Germany or Austria and most of them were revived several times.
Between 1991 and 2004, he developed his own acting method – the Perdekamp Emotional Method – , which in 2004, was accredited at the University of Vienna. Since then, PEM has been used by actors, voice-over actors, singers, musicians, dancers, presenters and artists across Europe and in America.
In 2011, Stephan Perdekamp's production of "Surviving Love" was invited to the Midtown International Theatre Festival in New York City.
Since 2015, his acting technique has been adopted into the curriculums at the Royal Central School of Speech and Drama in London and the Southampton Solent University. He held PEM workshops at both universities as well as the University of Cluj in Romania.
In 2016, Stephan Perdekamp was awarded a life membership at the renowned Marwah Studios in India on his workshop tour through Delhi, Kolkata, Mumbai and Ahmedabad to recognise his achievement in acting training.
Stephan Perdekamp teaches master classes worldwide. In 2017, he traveled to Moscow to introduce PEM to Russian actors and held a 2-week intensive training at the National New Zealand Drama School: Toi Whakaari, among other engagements.
His method was academically acknowledged at the 2017 VASTA conference in Singapore – an annual gathering of speech and voice professionals from all around the world.
Outside Europe, a PEM base is currently established in Melbourne, Australia, where PEM is represented by PEM Master Instructor and Head of the PEM International Office Sarah Victoria. Masterclasses took place at the National Insititute of Dramatic Art NIDA in Sydney as well as the Western Australian Academy of the Performing Arts WAAPA in Perth.